How it Works
Here are few key points to help you understand who the Up2Europe Expert are
Up

2

Europe Experts
Are a selection of highly skilled consultants registered on Up

2

Europe
Apply for the Expert Subscription to become Expert if you have at least 5 years experience in one or more areas of expertise
Up

2

Europe Experts provide SMART SERVICES via the main Platform
Find the list of all features available below
SMART SERVICES
Are the smartest way to engage a customer with an Expert
The price and conditions of the final service are defined in agreement with the customer.
See the service section for an overview of all services
Expertise
Four different areas of expertise linked to the SMART SERVICES.

EXPERT
This badge is given to the
Up

2

Europe
expert with good knowledge of EU instruments and programmes, who can advise the applicant on all issues related to European funding
EXPERT
Trainers are the intermediaries to help people better understand how to manage european projects, write a winning proposal or where to find the target funding opportunity.
EXPERT
This title is given to consultants that have managed several european projects and act as Consultant for such services.
EXPERT
Proposal Evaluator
ON EU FUNDING
Features
Available for the Up2Europe Experts
Up

2

Europe
Expert Profile
A Powerful Consultant Profile on Up2Europe
SMART Services


Provider

A Consultant profile with your selection of services such as Supporting, Grant writing, Proofreading, Pre-submitting Evaluation, Training,...

See Services
Visibility
Visibility is given to all Up2Europe Experts in the Consultant result set, next to the target Calls, in the Widget and in the search engine of european projects
Up

2

Europe Ad Space
Experts are promoted in the Up2Europe advertisement spaces
Advanced Quote Form
Based on your services definition your Contact form can orient customers to define their quote request
Target your Call
Become the reference on Up2Europe for your target Calls for proposals
Your Audience
Understand who your viewers are and what brought them to you
30 Days Trial Period
You can try the services for Free, before subscribing
Want to know more?
About the fee and conditions

Your Expert Profile
A powerful profile for introducing your services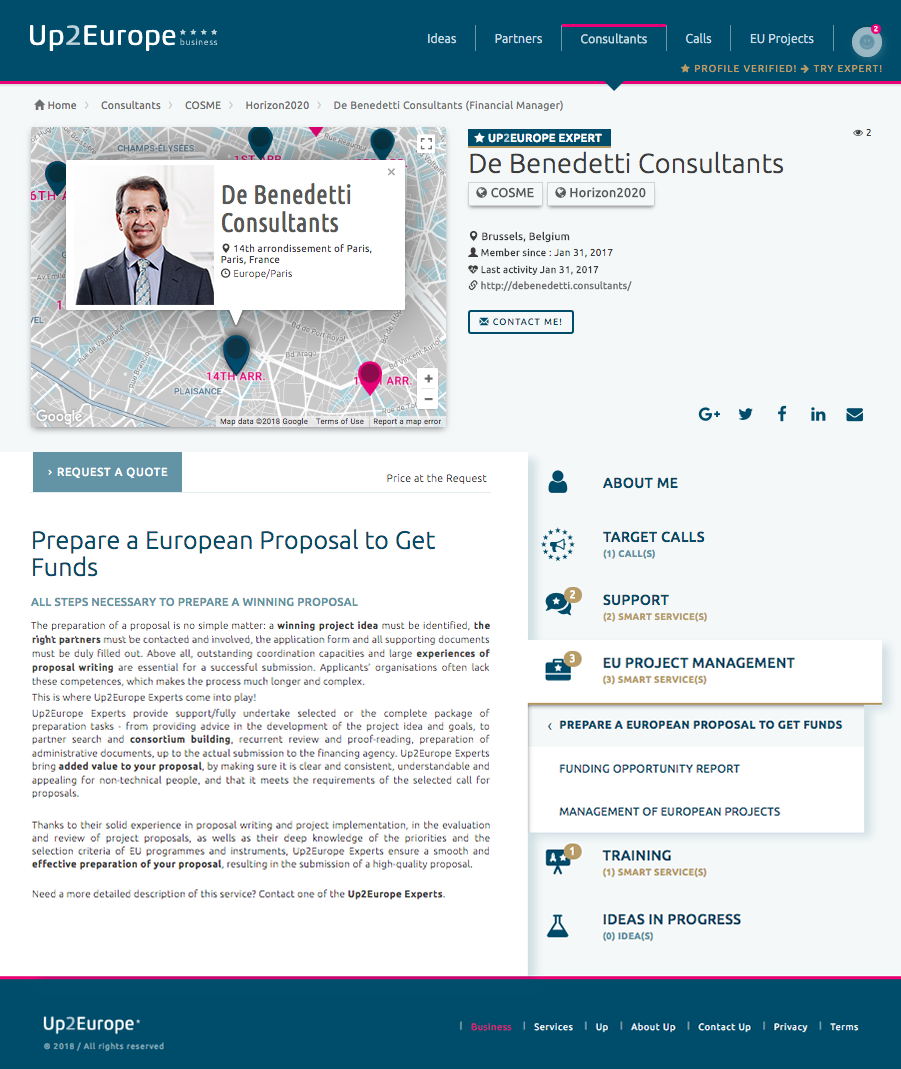 Next to Your Target Call
Close to your target audience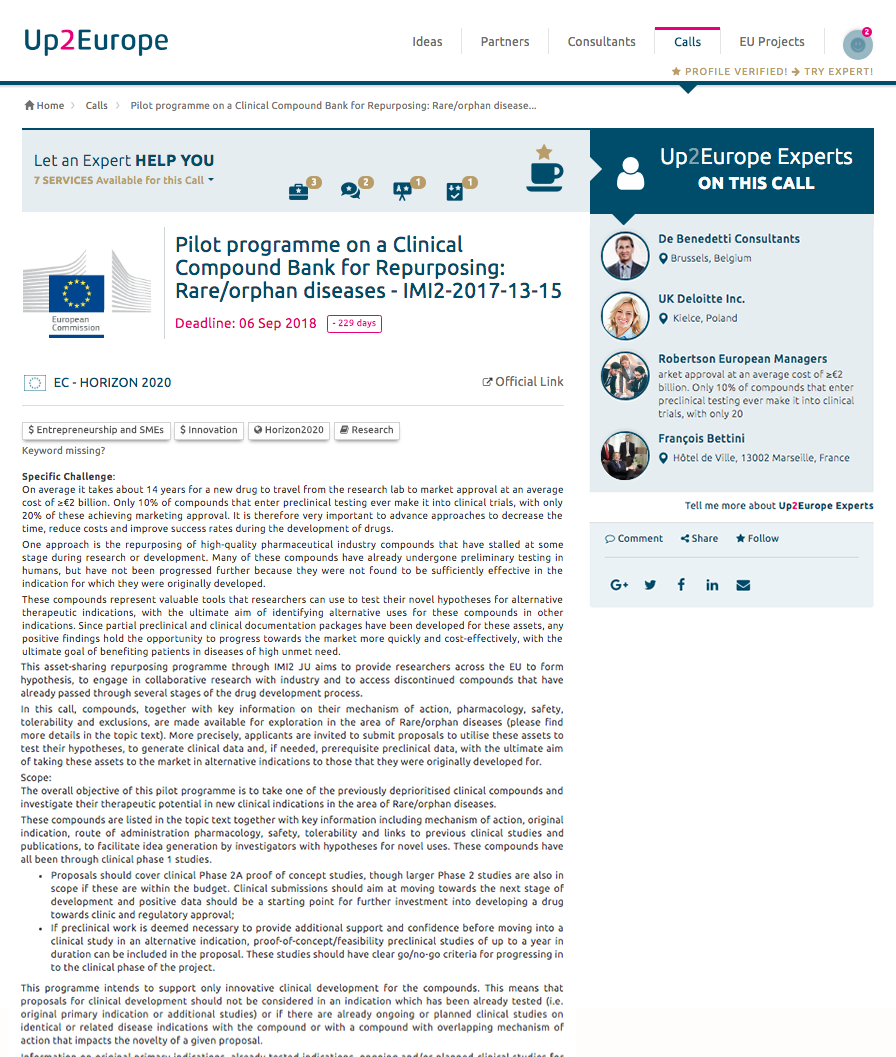 Priority for the Experts
Always at the top of the Consultants' searches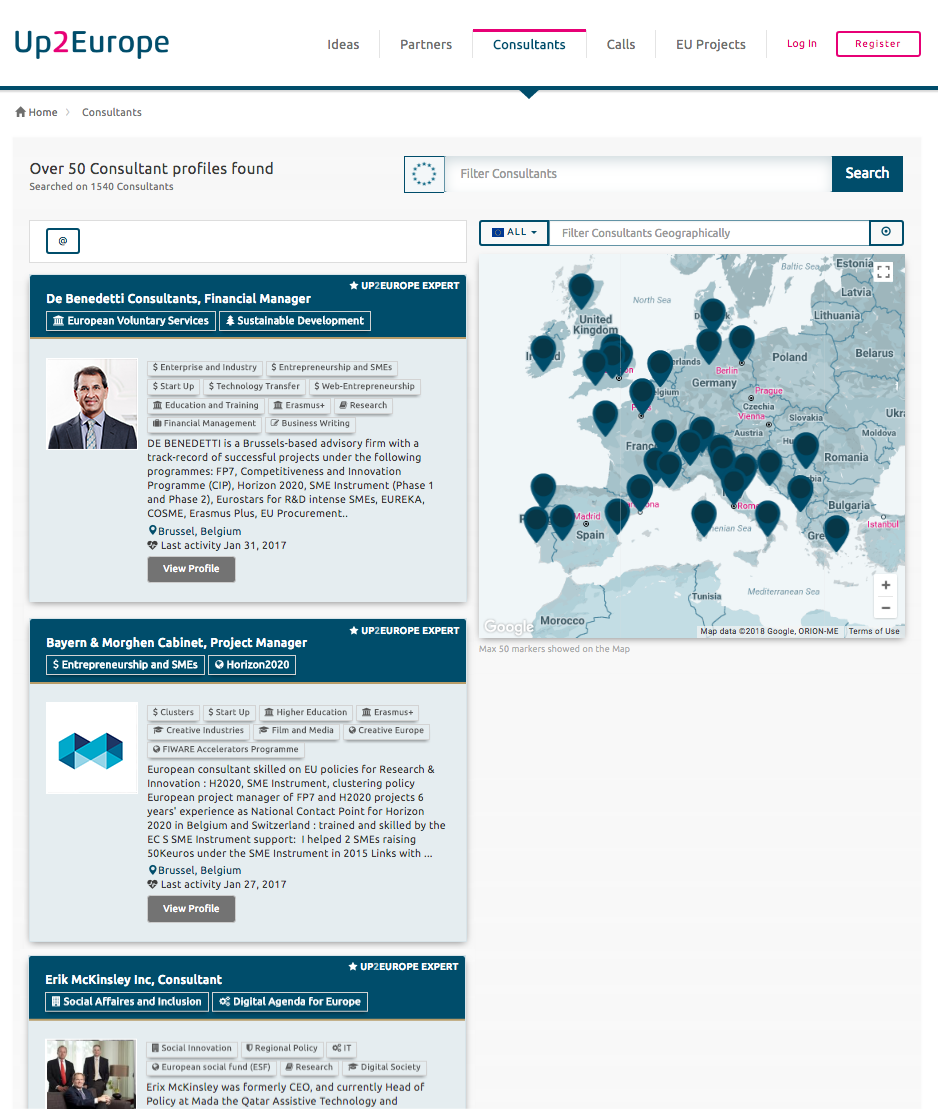 Visibility in the Up2Europe Widget
(20% of the Up2Europe traffic comes from the Widget)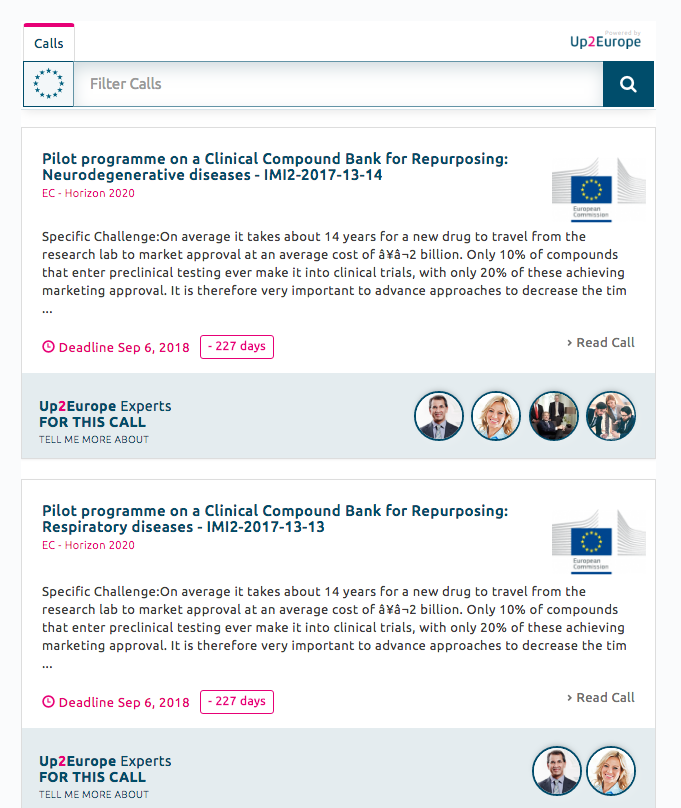 The list of Open Calls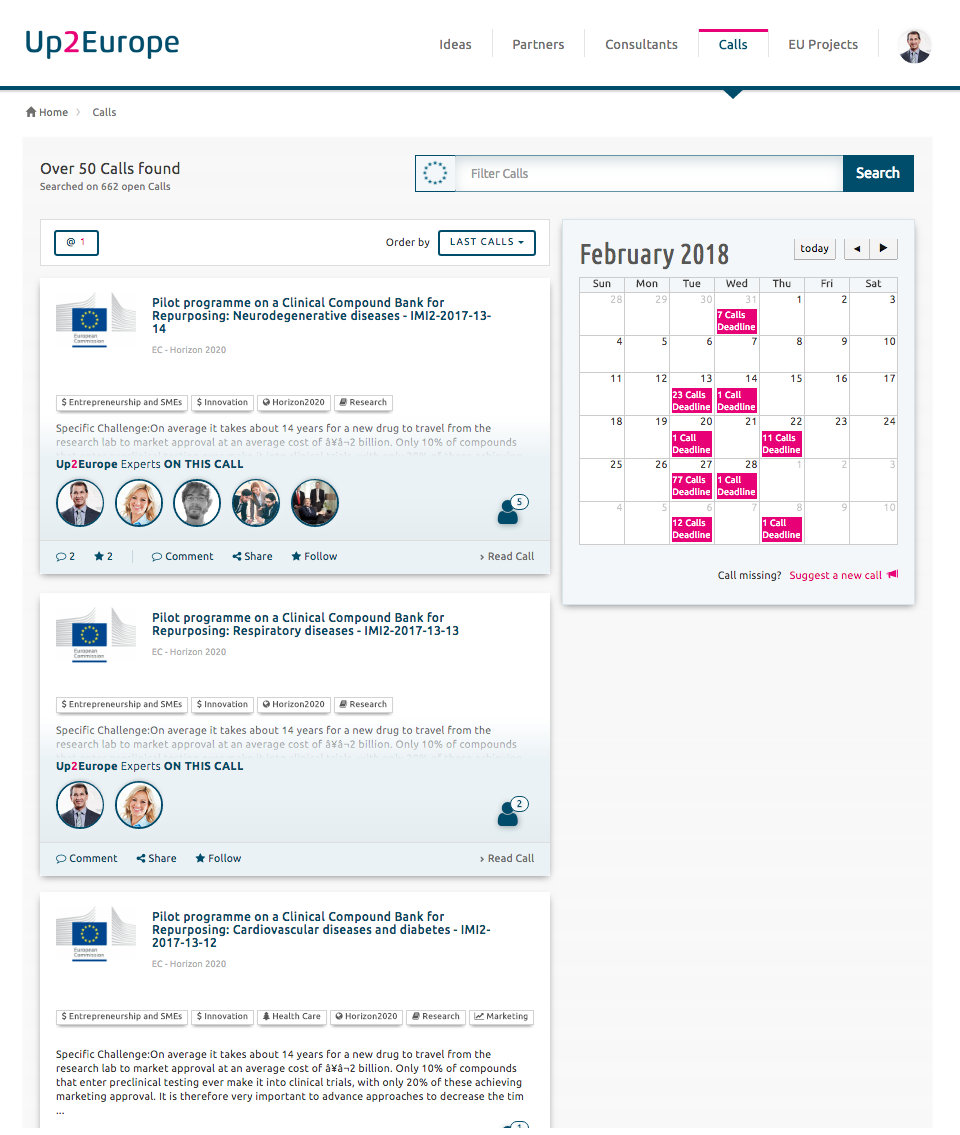 In the Ad Spaces on Up2Europe
Over 125K indexed EU projects brings in traffic of over 400 hits per day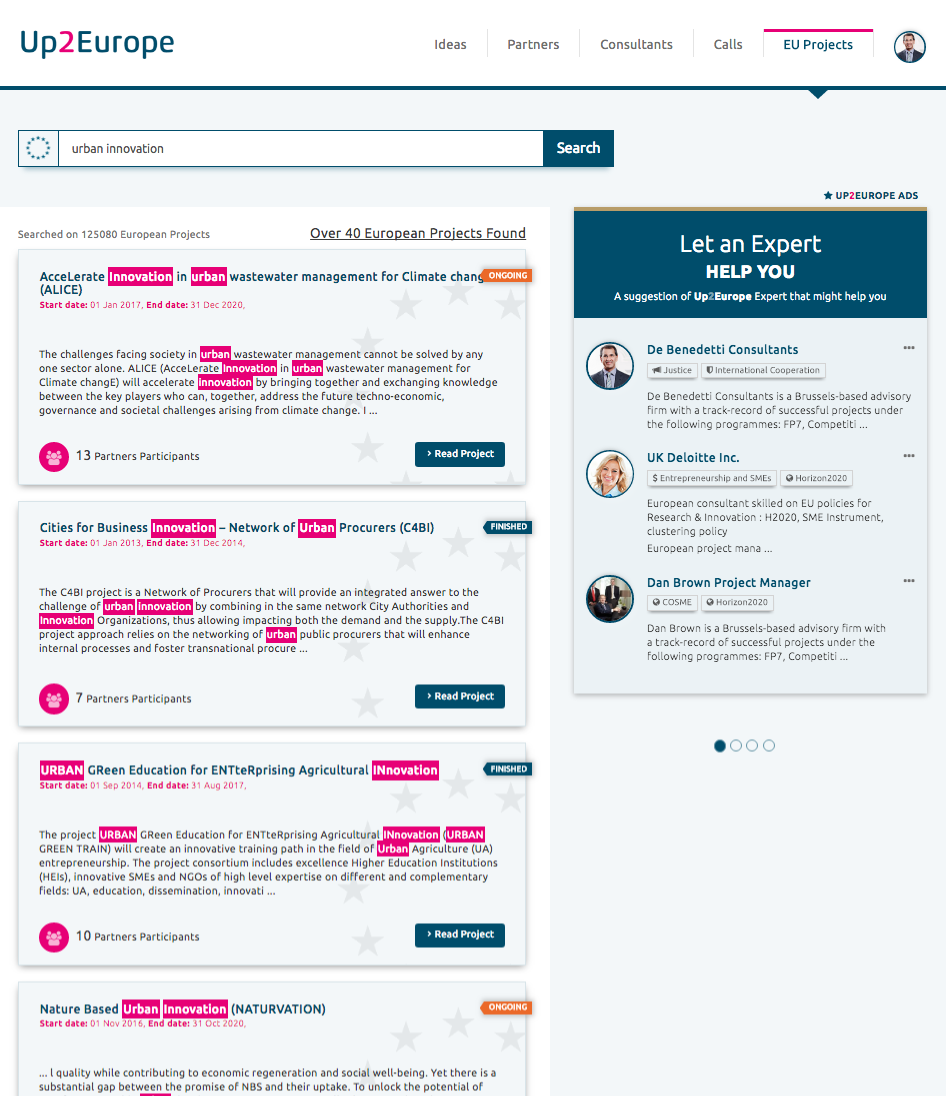 Expert Subscription
Find some must-know information about the Expert Subscription below
Premium
199.2 €
Annual subscription
The Key Points:
Commitment to a 12 month Expert Subscription
Payment for the first 12 months required upon subscription
After the first year you can renew or unsubscribe
At which point, if you unsubscribe before the end, you will be reimbursed for any remaining months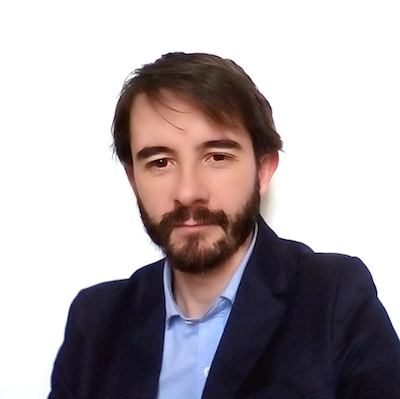 "
Up2Europe is a niche marketplace for European cooperation. One new contract signed can easily pay your membership fee for many years.
Andrea Pirastru
CEO Up2Europe
"